Andrius Arutiunian (b.1991, Vilnius) is an Armenian-Lithuanian composer and sound artist. He works with sound and hybrid forms of media, with a particular interest in sonic artefacts, aural identities, and digital, automated technologies.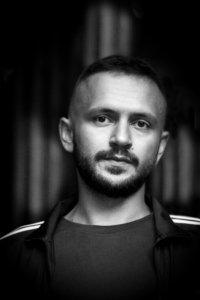 Arutiunian's works comprise of installations, sound objects, electronic performances, and works for performers. Recent shows and performances include ZKM | Hertz Lab, Karlsruhe (2020), Stedelijk Museum, Amsterdam (2019), documenta 14, Parliament of Bodies, Kassel (2017), Contemporary Art Centre, Vilnius (2017), deSingel, Antwerp, (2017), Rewire Festival, The Hague (2016), and MAZE Festival, Amsterdam (2016). He was artist-in-residence at BALTIC Centre for Contemporary Art, Gateshead (2019), ZKM | Centre for Art and Media, Karlsruhe (2019), Quartertone, Yerevan (2018), and Cyprus National Museum & Slagwerk Den Haag residency, Nicosia (2014). He has recently been selected as an EMARE/EMAP artist-in-residence at FACT Liverpool for their 2021 program.
His works have been commissioned and performed by Ensemble Adapter (Berlin), Ensemble Modelo62 (The Hague), Nadar (Antwerpen), MAZE (Amsterdam), Slagwerk Den Haag (The Hague), Synaesthesis (Vilnius), and other contemporary music groups. He is a recipient of the "Young Artist of 2017" award by the Lithuanian Composers Union. Andrius Arutiunian's works are published by Donemus (NL).
Based in the Netherlands, he obtained his BA and MA degrees at the Royal Conservatory The Hague and in 2015-2018 was guest tutor at the Master Artistic Research department at the Royal Academy of Arts The Hague. Since 2016, he works a sound researcher at the Sedje Hémon Foundation.

For short CV
For portfolio
For press photos
For scores distributor