I Track You Sometimes no. 2 [032]
#audio-visual
#chamber
#ensemble
/
Duration:
open /
Year:
2016 /
Instrumentation:
open /
Premiered by:
kHz ensemble | Rewire festival, The Hague, 2016
I Track You Sometimes exists in two versions. The second version is an open video score which consists of overlaying a grid of pitches and rhythms onto the flighradar24.com website. The score is projected to both the audience and musicians and the location of the concert should be visible in the score as well. The players are then asked to select a plane and follow its movement on the screen by applying pitch and rhythm changes according to the score and a set of 4 rules.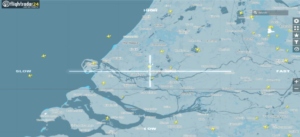 The direct transposition of the plane movement into a series of pitches directly defines the pitch content of the piece as well as its formal, time-based structure. This formal limitation imposed by the manual task of following a particular movement of a particular plane forms a constantly changing content of the piece, which directly depends on the commercial flight routes and selected day and area. On the other hand, this same content might dramatically change depending on weather conditions or unexpected events (such as for example the likely rescheduling of the flight routes in the event of terrorist attacks). In this way, the manual transposition of the flight route exposes not only the plane movement in a selected map frame, but also various the micro and macro socio-economic as well as geographic contexts that defines such routes in the first place.